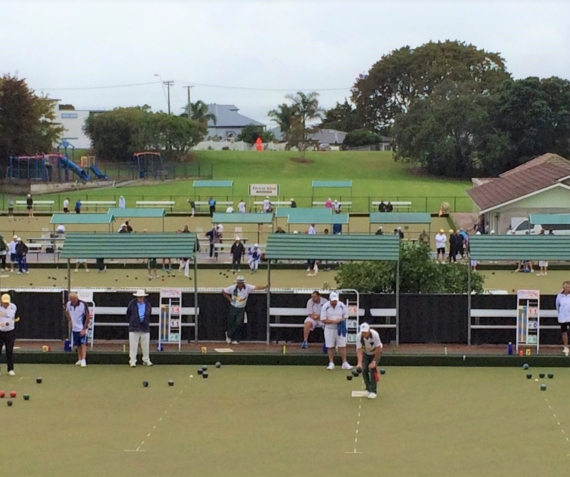 ---
Howick Bowling Club has been going for over 100 years and is the biggest and one of the top clubs in Auckland. Set near the historical village of Howick the club has three grass and two artificial greens enabling play all year round.
The club has a comprehensive programe designed to enable people of all levels of playing skill to enjoy the game of bowls.
Tuesday half-day all-comers from new to experienced.
Wednesday full day for the more experienced and competitive bowlers.
Friday half-day 2-4-2 to end the week with friends enjoying the game.
Informal Roll-up play Saturdays plus Mondays (winter), Tuesdays (summer) and Thursdays.
Involvment in Auckland Bowls Interclub tournaments and special tournaments
In addition, during summer on Thursday evenings the club runs Twilight Bowls, an opportunity to enjoy social bowls with your friends, followed by a light meal and refreshments.
---
The club also runs an excellent coaching on Monday and Saturday mornings for those wishing to learn the game or those wanting to improve their game, and it's free!
The club is fortunate to have a loyal and hard working group of volunteers who run and maintain the the facilities, events and catering we need in the club.
OFFICERS
Our President
| | | | |
| --- | --- | --- | --- |
| President: | Lyn McKay | Phone: | 09 533 8858 |
| Vice-President: | Brian Jago | Phone: | 09 534 8363 |
| Secretary: | Clive Cockle | Phone: | TBA |
| Treasurer (Facilities): | Mike Dickie | Phone: | 027 311 5008 |
| Treasurer (Bowls): | Ken McIntyre | Phone: | 09 535 7121 |
| Membership Manager: | Kevin Dumper | Phone: | 09 534 6572 |
| Club Captain: | Merv Mildon | Phone: | 09 537 6378 |
| Coaching Convenor: | Richard Ludbrook | Phone: | 09 5345098 |
| Venue Hire Manager: | Rick Meyrick | Phone: | 09 534 2759 |
HISTORY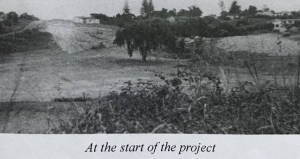 The Howick Bowling Club dates back to 1907 when H K Gilmour JP established the Howick Bowling and Croquet Club as a private enterprise on his own property in Uxbridge Road behind todays Uxbridge Centre. The venture proved extremely popular with the club leasing the property from Mr Gilmour in 1911 before purchasing the site outright two years later upon forming itself into an incorporated society.
It then consisted of a humble small clubhouse, one bowling green and two small croquet lawns.The club thrived although after having survived two World Wars and the Great Depression, a fire destroyed much of the club's records. In 1950 the women formed their own separate Women's Bowling Club, sharing the facilities.
Meanwhile, in 1942 The Howick Horticultural and Beautifying Society had purchased the first three sections on the corner of Sale Street and Selwyn Road with the aim of developing a miniature Albert Park in Howick. The society's plans  were encouraged when Miss Maud Nixon, a former president of the croquet club, purchased two further lots and presented them to the Town Board with the stipulation that the area was to be used a "Reserve and Public Park" for all time. The Town Board bought three further  lots between 1949 and 1952 and the adjoining Copper Block.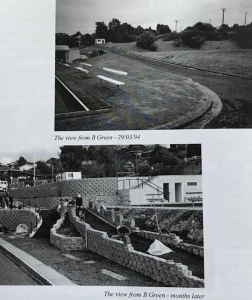 In 1957 the Howick Borough Council considered a plan to develop a large part of Nixon Park as a recreational area for men and women bowlers and croquet players. After vigorous local debate and strong protests from the Howick Horticultural and Beautifying Society the development, championed by Mayor William (Alf) Stevenson, was adopted. The club received a Licence to Occupy under the Reserves and Domain Act 1953. The Howick Women's Bowling Club also received their own Licence to Occupy. With financial assistance from the Council and the proceeds of the sale of the old club site in Uxbridge Road the two clubs were able to develop the site. The men erected a pavilion adjacent to their new greens while the women occupied a small pavilion adjacent to the lowest green that was later extended in 1971.
The men's club embarked on further development of the greens and, again with financial assistance from the Council, constructed a new clubhouse adjacent to A Green, which was opened in 1974. Further improvements were made in ensuing years to improve drainage, level the greens and locate and develop a bore water supply.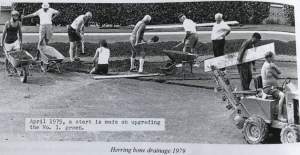 In the 1980's the clubs were struggling to remain financially viable as they lacked the funds to maintain and improve the existing facilities. Club member, Trevor King QSM, was an extrordinary fundraiser and organiser with great powers of persuasion. Together with old Howick identity, Russ Rice, he conceived a $1 million plan to make major changes to the clubhouse and greens.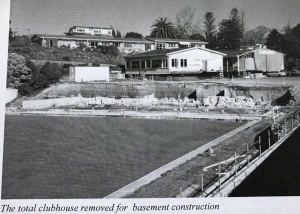 This involved relocating the croquet club to a new site in Northpark to allow their three greens to be converted to two new artificial all-weather bowling greens  and the lifting and major renovation of the existing clubhouse. The two bowling clubs agreed to share all facilities and the women's club relinquished their occupation of the pavilion by C Green, now Trevor Green Green. The financing included generous support from Manukau City Council, including grants and loans, the latter having now been repaid. The works were carried out largely using volunteer labour and were completed in 1994.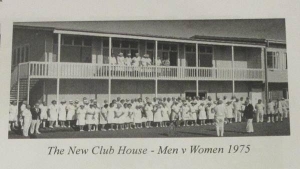 Since then Howick Bowls has gone from strength to strength.  This is mainly due to host of volunteers from club membership. Volunteers carry out all the tasks required, from committees which have come to control the club's affairs with professional skill to helpers in the kitchen, the bar and competition organisation. Our full-time greenkeeper, Paul Hickey, has maintained the greens to a high standard for more than 25 years assisted by club helpers. Grants and member contributions have enabled ongoing improvement in facilities, including the replacement of the artificial greens in 2006-07.
In 2017 the men's and women's clubs agreed to amalgamate as the Howick Bowling Club to reduce the management workload, improve efficiency and better manage activities.
---
VISION AND VALUES
VISION STATEMENT
Howick Bowls intends to provide our club members with the best bowls playing experience from beginning to end, with excellent playing facilities and a friendly club atmosphere with social and recreational enjoyment achieved through professional and skilled management and sustainable growth.
OUR VALUES
Teamwork: We believe in working as a group to achieve a common goal throughout the club, from executive level to teams and social players.
Respect: We respect ourselves and each other while encouraging and embracing competition and improvement.
Integrity: We have a high regard for truth, playing according to the rules, striving to act in an ethical  way and are sincere in our actions.
Tradition:We will build upon our traditions which have been developed throughout our proud history.
Accountability: We hold ourselves and each other accountable for our words and actions.
Community: The club members are responsible, caring and active citizens within our community.
Humility: We are grateful for our opportunities and mindful that our participation in bowls is a privilege and not an entitlement.
Sportsmanship: We are gracious competitors regardless of the final score and conduct ourselves with dignity under pressure and in the face of adversity.