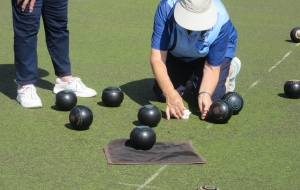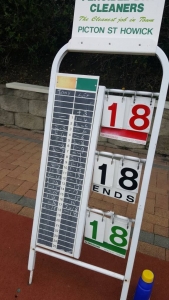 Tournament Information
Most pages have a sidebar that shows the next 14 events at any given time and the Calendar page (tab on the main menu line) has all events for months ahead and move your cursor over any event to show more details.
Cancellations: If weather conditions are doubtful please always check with our Cancellation Line 534 5335
COVID-19 UPDATE 26 MARCH 2020
As of Monday 23 March, Bowls New Zealand require ALL bowling clubs to cease ALL activity (until further notice).
All facilities, including the Club House and equipment sheds at the Club, are now locked.
Over the next 4 weeks we are being asked to be diligent with the Government's request for self-isolation, in pursuit of keeping everyone safe and free of the virus.
We have a number in our bowls community that live alone and/or are isolated from their family and friends due to Covid-19. Please, pick up the phone, connect by email or Facebook – look out for your fellow bowlers.
TAKE CARE
Lyn McKay
Your President

Upcoming Club Tournaments 
RYMAN CLASSIC CANCELLED
The Ryman Classic at Howick Bowling Club on 28th and 29 th March has been cancelled due to the risks and uncertainties associated with the Covid-19 situation and the latest guidelines issued from Bowls NZ.
For refunds please email howickbowls@xtra.co.nz with the subject line RYMAN CLASSIC REFUND.  Please include the name under which you entered and bank account details.
 GRIFFITHS CUP SUNDAY 5TH APRIL IS CANCELLED
In accordance with Bowls NZ guidelines re Covid-19, this event which has an entry field exceeding 50 has been cancelled.
Other Club Events
Men's and Women's First Year Singles – Saturday 4 April
Junior Men's and Women's Fours – Sunday 19 April
Upcoming Centre and National Events
(Please enter Auckland Centre events online on their website. You will also need to pay the entry fee directly to Auckland Centre)
Tournament Entries
Entries for the Wednesday Triples and Friday 2-4-2 tournaments are able to be made online (see below), by email, as well as by the sign-up sheet in the Clubhouse.
Entries for Thursday Twilight will continue to be by either email or by signing the sheet in the Clubhouse.
The deadlines for entries are as follows:
Wednesday Triples: online and email entries close at Noon on Mondays; the sheet in the Clubhouse closes at Noon on Tuesdays
Thursday Twilight: entries close at 11 am on Thursdays
Friday 2-4-2: online and email entries close at Noon on Wednesday's; the sheet in the Clubhouse closes at Noon on Thursdays
Entries for all tournaments may be made for the next pending tournament (i.e. one week at a time)
If entering Thursday Twilight via email you should include "Thursday Twilight" and the date for which the entry is being made in the subject line. Please also include a contact name and a contact Phone Number in the email. Send the email to howickbowls@xtra.co.nz.
Regular Tournaments
TUESDAYS: Single entry Triples 9.30 am to 12.30 pm.
Two games of 8 ends played on grass in summer and all-weather greens in winter. Enter on sheet at clubhouse or to Glennis Davey by end of Monday. Entry fee $5.00 per player. Prizes usually chocolate and/or New World Howick vouchers.
WEDNESDAYS: Open entry any combination Triples 9.30 am to 4.30 pm.
Four games, generally 9 ends, played on grass in the summer and three games, generally 10 ends, all-weather greens in winter. Morning tea provided after the first game.  Bring your own lunch for the lunch break. Entry fee $30.00 per team. Prizes New World Howick vouchers. Click on the "More Information" button below for further information. Deadlines are noon on Monday for online entries (click on Entry button below) and noon Tuesday for the Clubhouse entry sheet.
FRIDAYS: Open any combination Hong Kong Pairs (2-4-2) 1.00 pm to 4.30 pm.
Two games, of normally 10 ends, played on grass in summer and normally 9 ends on the all-weather greens in winter. Entry fee $10.00 per team. Prizes New World Howick vouchers. If you haven't a partner put in a single entry and we will do our best to find one for you. Click on the "More Information" button for more information. Deadline is noon Thursday. Enter on sheet in the Clubhouse or use the Entry button below to enter online.
ROLL-UPS:
Roll-ups are on Saturdays, 1.00 pm to 4.00 pm. These are organised events playing 16 ends with a break after 10. Just turn up and put your disc on the office counter by 12.45 pm. On the first Saturday in each month we run a 'friendly' tournament. On these days is an entry fee of $2 to cover modest prizes and there are two games of 8 ends, in the second game the first-round winners play winners and losers play losers.
Dress is mufti for all roll-ups though approved bowls shoes must be worn.
THURSDAY TWILIGHT BOWLS (SUMMER MONTHS)
Bring your family and friends along and play social bowls on Thursday evenings, and then join us for a light meal after the bowls.  Entry fee is $7.50 for a Howick Club Member, and $10 for non-members.  All welcome.  New to bowls – Our Club members will help you get started.  Please be at the Club before 5.15 pm for a 5.30 pm start.
Enter on the sheet at the club or by phoning Irene Turley Ph 532 8454 by 11 am on the Thursdays. Please always check with our cancellation line 534 5335 that Twilight Bowls is happening as very occasionally it has to be cancelled for weather or insufficient numbers to play.