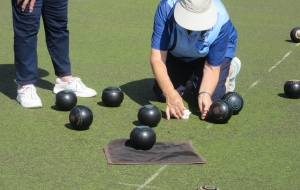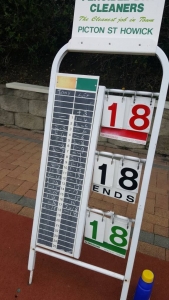 Tournament Information
Most pages have a sidebar that shows the next 14 events at any given time and the Calendar page (tab on the main menu line) has all events for months ahead and move your cursor over any event to show more details.
Cancellations: If weather conditions are doubtful please always check with our Cancellation Line 534 5335
TUESDAY SINGLE ENTRY 9.30 am start
Single entry triples. $5 entry fee and prizes. Enter on sheet at clubhouse by noon Mondays. Two games of 8 ends.
WEDNESDAY TRIPLES –  9.30 am start
3 games 10 ends. First two games will be back to back, then lunch with one game after lunch. If required you will need to bring something to eat and drink for between games as well as lunch.  There is no food or hot drinks provided.
FRIDAY 2-4-2 PAIRS  1 pm start
Open any combination Hong Kong Pairs (2-4-2) 1.00 pm to 4.30 pm.
Two games, of normally 10 ends, played on grass in summer and normally 9 ends on the all-weather greens in winter. Entry fee $10.00 per team. Prizes New World Howick vouchers. If you haven't a partner put in a single entry and we will do our best to find one for you. Click on the "More Information" button for more information. Deadline is noon Thursday. Enter on sheet in the Clubhouse or use the Entry button below to enter online.
ROLL-UPS:
Saturdays;  1.00 pm start. Discs need to be in by 12.45 pm at the latest. 16 ends, normally 10 then afternoon tea followed by 6 ends. No charge except on the first Saturday of each month a mini tournament is held with $2 entry fee and chocolate prizes. Two games of 8 ends. Convenor Ken McIntyre
Thursdays: Held during winter months until Twilight Bowls starts.  Use the discs to enter your name by 12.45 pm latest or 1.00 pm start. 8 ends then afternoon tea followed by 6 ends. Convenor Irene Turley 532 8454.  No charge
Upcoming Club Tournaments
Refer to website and clubhouse for updates.
Canoe Cup – Years 1-5 Men, Saturday 15th and Sunday 16th August, Bridge Pa Bowling ClubCampi Cup – Years 1-5 Women, Saturday 15th and Sunday 16th August, Kohimaramara Bowling Club
ABCA Cup – Years 1-5 Mixed,  Saturday 23rd August, Howick Bowling Club
Upcoming Centre and National Events
(Please enter Auckland Centre events online on their website. You will also need to pay the entry fee directly to Auckland Centre)
Tournament Entries
Entries for the Wednesday Triples and Friday 2-4-2 tournaments are able to be made online (see below) as well as by the sign-up sheet in the Clubhouse.
Entries for Summer Thursday Twilight bowls will continue to be by either email or by signing the sheet in the Clubhouse.
The deadlines for entries are as follows:
Wednesday Triples: online entries close at Noon on Mondays; the sheet in the Clubhouse closes at Noon on Tuesdays
Thursday Twilight: entries close at 11 am on Thursdays
Friday 2-4-2: online entries close at Noon on Wednesdays; the sheet in the Clubhouse closes at Noon on Thursdays
Entries for all tournaments may be made for the next pending tournament (i.e. one week at a time)
If entering Thursday Twilight via email you should include "Thursday Twilight" and the date for which the entry is being made in the subject line. Please also include a contact name and a contact Phone Number in the email. Send the email to howickbowls@xtra.co.nz.
Thursday Twilight Bowls (Summer Bowls)
Bring your family and friends along and play social bowls on Thursday evenings, and then join us for a light meal after the bowls.  Entry fee is $7.50 for a Howick Club Member, and $10 for non-members.  All welcome.  New to bowls – Our Club members will help you get started.  Please be at the Club before 5.15 pm for a 5.30 pm start.
Enter on the sheet at the club or by phoning Irene Turley Ph 532 8454 by 11 am on the Thursdays. Please always check with our cancellation line 534 5335 that Twilight Bowls is happening as very occasionally it has to be cancelled for weather or insufficient numbers to play.